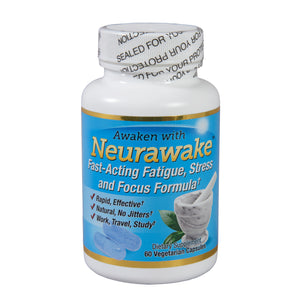 Neurawake
Neurawake, 1 bottle of 60 vegetarian capsules
Sale price Price $58.00 Regular price
Removes "Day Drain": daytime fatigue and stress.
Restores calm focus, supports motivation and well-being.
A good-for-you, nutritional dietary supplement.
Rapidly effective within 15-30 minutes.
Perfect for work, travel and study days.
Long lasting morning formula.
Marine plant minerals, medicinal tea actives, blue spirulina extracts, low caffeine complex.
It works, guaranteed.
Plant-based and body-supporting long term.
No jitters, crash or insomnia.
Vegetarian and vegan.
No gluten, milk, eggs, peanuts, tree nuts (almonds, cashews, walnuts), fish, shellfish, soy or wheat.
1 bottle usually lasts a month with average use.